FAIRYTALE WEDDINGS & FAIRYTALE FLOWER GIRLS BLOG
Introduction
When it comes to weddings, everyone wants that fairytale experience where everything is perfect. This can be hard to achieve, but if your wedding theme is a fairytale theme then you'll definitely have an enchanted wedding. We've put together some tips for decorating and planning your magical day!
1. fairytale wedding theme colors
Fairytale wedding theme colors
Fairytale themed weddings are all about luxury. From the flowers to the food, everything is carefully thought out with a little extra pampering in mind. The color palette should reflect this idea of opulence and richness. To get started, here's a list of our favorite fairytale wedding theme colors: 
Gold: Gold is one of the most popular choices for fairy tale themes because it has such an elegant look that can be carried throughout your entire wedding day! This color works well with both soft and bold shades as well as other metallic hues like copper or silver. You could also use gold accents for some added glamour at your ceremony or reception tables.
Silver: Silver is also another great option if you're looking for something more modern/urban but still want to stick within the 'fairy tale' theme. If you choose to go with this color scheme then make sure all your flowers match too so they look cohesive together on each table (you don't want guests wondering why there are different types everywhere).
Cinderella: Pastel blue, silver & cream
Alice in Wonderland: Woodsy Theme
Golden Fairytale Theme: Sparkling Golden Carriage or Decor with creamy whites and ivories. 
Enchanted Forest Wedding Theme: Rich Colors in Rust and Brown
Lavender Mauve Fairytale Wedding Themes
Beautiful mauve creates a romantic fairytale theme.  This color is perfect used in bridesmaid dresses, flower girl dresses and even in wedding flowers, décor and wedding invitations. 
\Fairy Lights and Candles Wedding Theme
2. Flower girl dresses for your fairytale wedding theme
Flower girls are the perfect addition to any wedding. Their fairy-like presence and sweet personalities will add a special touch to your big day. They add a sense of fun and festivity that makes every wedding more magical. If you'd like to see how our flower girl dresses can help your dream wedding come true, check out our collection below!
What are some ideas for flower girl dress styles? You could choose anything from classic white dresses with tulle skirts, beautiful organza ball gowns, cute little tutus in shades of pink or purple—you name it! The choice is yours! We've got a variety of options available right here at our online store Hannah Rose Vintage Flower Girl Dress Boutique 
Don't forget about us next time you need something special for your little angel's big day as a flower girl (or any other special occasion or special event).
3. Fairytale wedding theme pictures
These are some great examples of fairy tale-inspired wedding themes.
Fairytale theme wedding pictures
This Rustic Wedding Arch creates a magical woodsy look.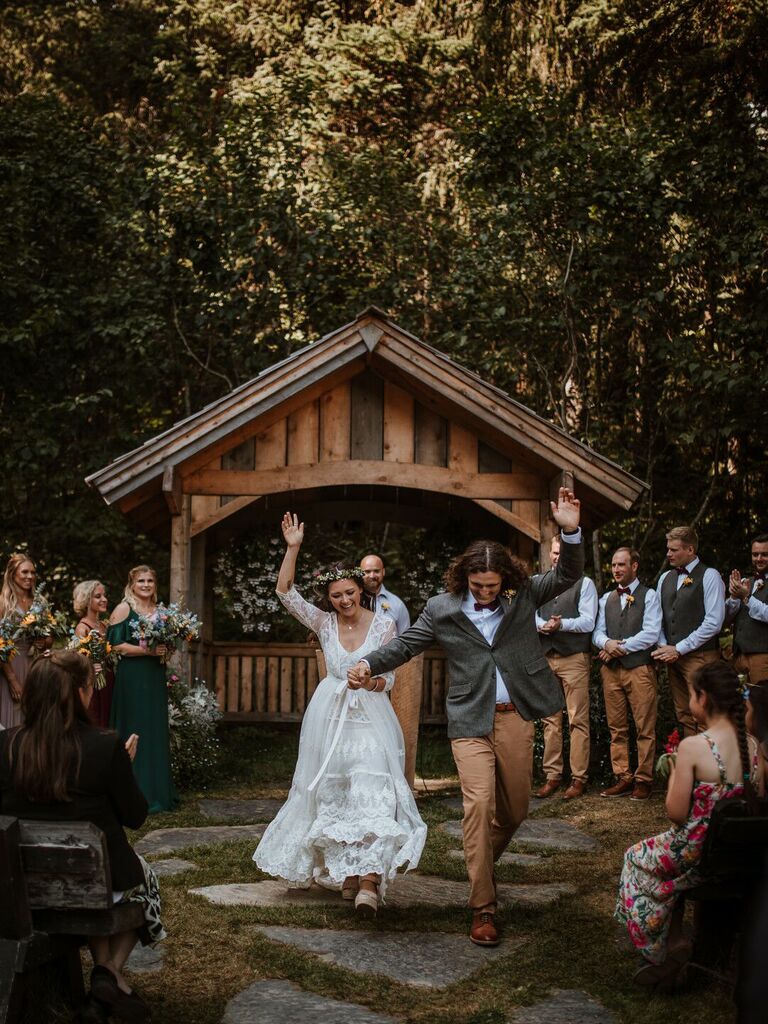 Indoors a Lush Flower Arch creates a more elegant magical woodsy look.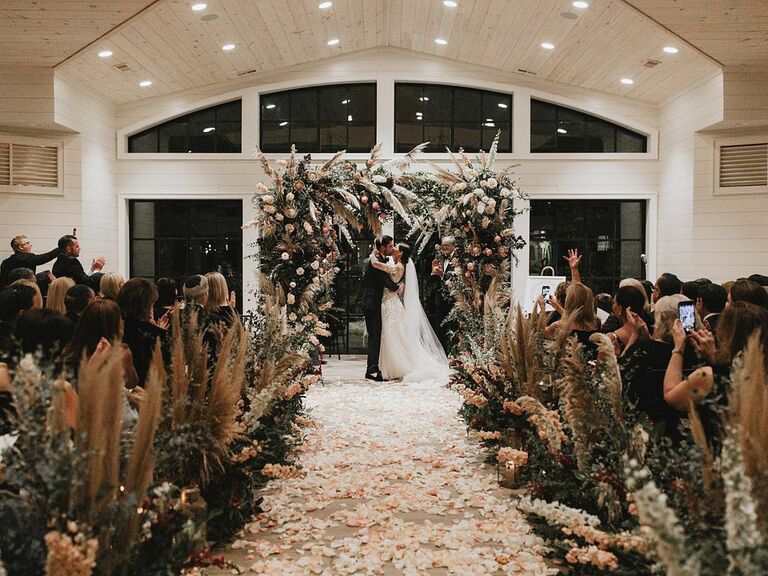 There is just something very magical about a beautiful Fairytale Themed Wedding!
It's one of the most popular wedding themes. Fairytale theme wedding pictures are just so romantic and dreamy. In this post, we will be sharing some of our favourite fairy tale themed weddings.
4. Disney Fairytale wedding.
Welcome to the Disney Fairytale wedding theme blog. Here, you'll find advice and inspiration for planning a wedding inspired by your favorite Disney films.
Disney is known for its fairy tale-like stories of princes and princesses living happily ever after, so it's no surprise that many couples choose to incorporate elements from their favorite Disney film into their own big day! From castles to fairies and everything in between—the options are endless when it comes to this theme!  The couple below tied the knot on the actual theme park grounds.  How magical is that!
Disney is also known for its magical theme parks, so it's no surprise that many couples choose to incorporate elements from their favorite Disney park into their own big day! From rides to fireworks and everything in between—the options are endless when it comes to this theme!
5. rustic fairytale wedding theme.
This is a simpler and more relaxed version of the classic, fairy tale wedding theme. It's perfect for those who want to keep the focus on nature, family and friends. Rustic elements are incorporated into this theme by using natural materials such as twigs, berries and grasses to decorate tablescapes or floral arrangements. You can also use them in other ways like as part of your bridal bouquet or centerpiece arrangements at dinner tables or on guest book table.
If you're planning a rustic wedding, it's important to keep in mind that the overall look should be elegant rather than rough and ready. You can achieve this by using soft fabrics like lace, silk or satin with earthy colors such as rust, browns, greens and grays. Check out these beautiful bohemian color flower girl dresses by Hannah Rose Vintage Boutique.com
If you're planning a forest fairytale wedding theme, keep in mind that the overall look should be elegant rather than rough and ready. You can achieve this by using soft fabrics like lace, silk or satin with earthy colors such as rust, browns, greens and grays. The best way to incorporate this theme into your big day is by using fabrics that are natural such as linen or cotton instead of synthetic materials.
6. romantic fairytale wedding theme.
The theme of a fairy tale wedding is all about romance, love and beauty. Use soft colors like pastel peach, ivory, white and cream for your wedding decor. Use lots of flowers such as roses or hydrangeas to add an elegant touch to the ceremony space. You can also use candles around your venue as it gives off a romantic feel when paired with soft lighting. Your bouquet should be full of red roses if you're going for this theme, but if you want something more contemporary then opt for white or cream colored flowers instead!
For the reception, consider decorating your tables with soft colors like pastel peach or ivory. You can use flowers as centerpieces and also place candles around the venue to create a romantic ambience. You can also opt for fairy lights if you want something more contemporary!
7. enchanted fairytale wedding theme
If you're planning on having an enchanted fairytale wedding theme, you can find inspiration from the forest. Decorations and accents that remind your guests of nature will be perfect in this case. You can use floral arrangements with roses or flowers that are found in the forest, such as hydrangeas, tulips and daffodils. Another popular idea is to decorate with butterflies that represent freedom.
You can also add other elements to make it more magical for your wedding: candles everywhere! Make sure they're all white so they blend well together with everything else on the tables; rose gold tableware would also look great especially if you have a theme color like pink or purple (you could even mix them). Also consider adding some lanterns so guests won't get lost looking for their seats at night during dinner time because there won't be any lights inside these kinds of places which makes everything look darker than usual so if possible try getting artificial lighting as well like votive candle holders placed around every table section where each guest will sit plus tea light holders set off center pointing up toward centerpieces above each place setting too!
8. Magical fairytale wedding theme
The fairytale wedding theme is a great option for those who want their special day to be as magical and dreamy as possible. If you're thinking of going with this theme, here are some of the things you might want to consider:
Fairytale Wedding Theme Colors
The color scheme should be light and pastel, with an emphasis on pink, purple, blue and white. The flowers used in your bouquet should match these colors too!
Photo credit: AnnieWeddtique (Etsy Store) –

 

Blush Wedding Chair Sashes
Chair sashes will add an exquisite fairytale flair to your wedding decor. These stylish chair sashes are made of high quality chiffon fabric with their edges sewn for an ultra-refined look.
For a romantic way to present your rings at the ceremony, this handcrafted ring box is made of wood and can be personalized with your initials or custom message. The cover is lovely and the antique style is straight out of a fairy tale!
The flower girl dresses should also be light and pastel colored, but they can have other elements added like lace or sparkles for extra flair! You can get inspiration from Disney movies featuring princesses like Cinderella or Sleeping Beauty. You can also add ribbons onto them if desired!
Wedding Dress Your wedding dress should be light and pastel colored as well, with some lace or sparkles added on for extra flair. Bridesmaids Dresses The bridesmaid dresses can also have these elements added onto them to match the theme! You can get inspiration from Disney movies featuring princesses like Cinderella or Sleeping Beauty.
9. royal fairytale wedding theme
Royal Wedding Theme Ideas:
Royal Wedding Dress Ideas:  Of course, the brides and their seamstresses already know the royal protocol surrounding formal royal outfits. These rules include no short hemlines, no low necklines, and no shoulders on display. Traditional also calls for long sleeves.

Royal Wedding Cake Ideas: Every Royal Wedding cake features significant and intricate designs which are intended to reflect the personalities of the couple as well as the significance of their union, a tradition that reaches far back to Queen Victoria's wedding day in 1840

Royal Wedding Flowers Ideas: Each of royal flowers are chosen for its symbolic: lilies, for the return of happiness; hyacinths, for steady love; ivy, for fidelity and friendship; and myrtle, the emblem of matrimony. As tradition dictates, Kate's bridal bouquet was laid at the Grave of the Unknown Warrior inside Westminster Abbey after the royal wedding ceremony was over.

Royal Wedding Decorations Ideas: Lavish yet elegant wedding decor is the hallmark of a royal wedding. The theme is best represented by rich gold accents, delicate scrollwork, and dashes of rich shades like royal blue or amethyst. Dripping arrangements of pure white and blush flowers are best off-set by the powerful gold Accenture.

Royal Wedding Invitations (Royal wedding invitations): This is the way to make sure that your guests know what kind of party you are planning. The more details you include, the better. Your royal theme invitation can serve as a way to let people know what kind of dress they should wear and how formal or informal the evening will be. You might also want to include other important information such as location, date and time for example."
When you are planning your royal wedding invitation, make sure that it fits in with the theme of the event. You can choose a specific color scheme or pattern to use on the invitation. You should also include some information about what kind of party it will be and whether there is a dress code for guests.
10. Cinderella fairytale wedding theme
A Cinderella wedding theme is the perfect way to incorporate your love of fairytales into your big day. This theme can be romantic, rustic and royal all at once. There are many ways to decorate for a Cinderella themed wedding; you just have to decide if you want it enchanted or enchanted by magic…or even both!
If you're planning on having a white and gold color scheme for your wedding then this is perfect for your princess bride. You can also use different shades of pink or lavender as accents throughout the event such as flowers or table runners which will add some extra flair without being overdone.
A Cinderella wedding theme is great for brides who want to have a more romantic and whimsical feeling at their wedding. With this theme, you can choose to go with a color scheme of white and gold or use different shades of pink or lavender as accent colors throughout the event such as flowers or table runners which will add some extra flair without being overdone.
11. Rose gold fairytale wedding theme
Rose gold is a popular wedding theme color. Rose gold is a great color for a fairytale wedding, as it's romantic and soft, but has just enough edge to make it interesting. It's also perfect for a garden wedding because it allows your floral arrangements to really stand out against the backdrop of your venue. If you're having a white and gold wedding, rose gold can be used as an accent or to complement existing light fixtures (such as chandeliers).
It's also a great color to use in your wedding party, especially if you're having a larger bridal party. It's not overpowering but still stands out on its own. Rose gold sequin dresses will be beautiful on both your bridesmaids and on your little flower girls. For flower girls opt for dresses with rose gold sequin bodices and flowing tulle skirts. If you don't want to go with rose gold, consider using other shades of pink or copper instead.
12. fairytale garden wedding theme Checklist!
If you want to make your wedding ceremony a fairy tale, consider the garden theme. A fairytale garden wedding is perfect for couples who love nature and romance. The idea of having an outdoor ceremony under the open sky is romantic and beautiful, so if you want a rustic feel to this day, this theme is perfect for you!
Decorations:

Wedding archway filled with flowers

Iron gates with flowers hanging from them

Fairy lights around trees or lamp posts

Flowers:

Peonies (for their lovely scents) - Roses (for their beautiful petals) - Other colorful flowers such as irises and dahlias
Wedding dresses: The most popular color for fairy tale wedding gowns is white, but you can also choose a light blue or pink. You can also wear a dress that has an overlay of tulle with lace details on the bodice. Carry these same colors into your bridesmaid and flower girl's dresses. Hair style: Long curls are perfect for this theme as they give off an innocent and girly feel to your look.
13. fairy garden wedding theme
Decorate your wedding with flowers and greenery. Lovely wildflowers in lots of pastel colors are perfect for indoor or outdoor and for a more elegant look choose pastel roses with lots of baby's breath flowers mixed in.

Use a floral arch for your ceremony backdrop.

Use flowers as table centerpieces, aisle decor, and bouquet decorations.
Add a floral crown to your flower girls and bridesmaids' hair. Use flowers as aisle decor for the ceremony.
14. fairytale white and gold wedding theme
White and gold are the perfect colors to use for a fairytale wedding theme. You can use white and gold for your invitations, wedding cake, bouquets, centerpieces and bridesmaids dresses. You may also consider adding other colors in the mix like pink or purple to add some sparkle to your fairytale theme!
If you want to stick with white and gold but want a more modern look, try silver or platinum for your wedding theme. This will give you more of a sleek, modern look without losing the classic fairytale feel!
Decorating your wedding day with a fairytale theme? Follow these tips to have a truly magical fairy-inspired wedding, worthy of royalty!
Wedding decor is an important part of making your big day a success. Whether you're getting married in a castle or on the beach, there are tons of ways to bring together your fairytale theme with your venue. Here are some tips for decorating your wedding day with a fairytale theme:
Fairytale colors: Think pastels and soft hues like lavender and pink. If you love all things purple, consider using that as one of the main colors!

Fairytale flowers: Make sure to include roses somewhere in the mix—but don't stop there! Try adding other flowers like tulips or hydrangeas for extra color.

Fairytale pictures: You can find tons online by searching "fairytale themed wedding photos"—take inspiration from these images when thinking about what kind of pictures you want taken on your big day!
Fairytale decor:
Think about using elements from your favorite storybook to decorate your wedding venue. Maybe you could hang paper lanterns from the trees or use flowers from a magical garden.
Conclusion
The fairytale wedding theme is a great way to add some magic to your special day. If you love Disney movies and castles, then this theme will be perfect for your big day!
Photo Credits:
main photo https://thebridalcollection.com/wedding-dresses/cinderella-disney-fairy-tale/
Wedding palette colors pictures from:https://clearweddinginvites.com/blogs/wedding-theme-trends/10-fairy-tale-wedding-ideas-that-romantic-brides-love
Carriage wedding photo from: https://www.modernwedding.com.au/disney-wedding-ideas/