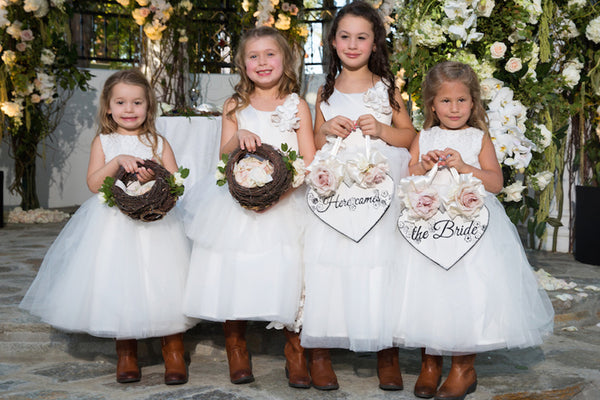 What Color Dress Should My Flower Girl Wear
Introduction
Choosing the perfect dress for your flower girl can be a challenge. You want to make sure she looks cute in it, but you also want something that will complement your wedding day style and theme. Finding the right color is essential! In this blog post we will cover some of our favorite color options for flower girls and why they work so well.
What Color Dress Should My Flower Girl Wear?
Traditional white may be the most common color for flower girl dresses, but it is by no means the only option. In fact, you can choose any color you wish for your flower girl dress. Flower girl dresses come in many colors, styles and fabric choices so you are sure to find one that is right for you.
What color flower girl dress is right for you?
The color of your flower girl dress should match the wedding theme and bridesmaids gowns, as well as complement the other colors worn by guests. If you're planning a fall wedding and want to avoid pastels, try a soft green, peach or apple red for your flower girl's dress. In warmer months, consider navy blue or dark purple for her frock.
If you have decided to go with a more formal affair but still want your little angel to look like an angel (and not a ballerina), she can wear white tights with her gown instead of bare legs like in traditional ballet attire.
Hannah Rose Vintage Boutique offers a variety of flower girl dresses for you to choose from.
Hannah Rose Vintage Boutique offers a variety of flower girl dresses for you to choose from. The fabrics range from light flowy tulles to more elegant laces and satins, giving you the chance to pick the perfect dress for your little angel.
Flower girl dresses come in many colors and styles, allowing you to find something that will look great on your child. Flower girl dresses are available in short, knee length or long length as well so it can be paired with any outfit!
Consider the venue, styling, colors and location when choosing a flower girl dress.
When choosing a flower girl dress, it's important to consider the venue, styling and colors of your wedding along with any location-specific considerations. For example: if you're planning on getting married outside or in a field and want your entire bridal party to wear white dresses, then all of them should be wearing white dresses.
Generally speaking though I think that flower girls should wear whatever they like best!
Should my flower girl wear white or some other color?
The answer to this question depends on your personal preference and the colors of the rest of your wedding party.
White is traditionally associated with weddings, so if you want your flower girl to stand out in a sea of white dresses, then it's an excellent choice. However, white isn't necessarily the only option—you may also consider pink or blue if you're using these colors elsewhere in your wedding party attire.
If you choose another color besides white for your bridesmaids' dresses but would like them to match each other, then consider choosing that same color for the flower girls as well. This way they'll look coordinated and balanced together at all times!
Finally, if you want all four members of your bridal party (the bride/groom, maid/man/best man) dressed similarly but feel that having them wear identical clothing would look too formal or uncomfortable...then consider choosing different shades of one hue for everyone involved instead (e.g., navy blue).
Flower girl dresses come in many colors, styles and fabric choices, so you are sure to find one that is right for you.
For a formal wedding, you can choose the style of dress that your flower girl wants to wear. For example, if she likes shiny satin dresses or lace gowns with poufy skirts, then it would be great to wear these at your wedding.
The color of the flowers on your bridal bouquet also affects how pretty your flower girl will look in her dress. If you have chosen white roses for your bouquet and blue hydrangea for other decorations around the venue, then pick a light pink flowered frock for your cute little girl so that she blends in with the rest of the flowers perfectly well! A dark purple bodice and pale blue skirt suit will go well with any kind of theme (like vintage) since it is both bright and pretty together with just enough contrast between its different elements to make sure everything goes according to plan while still looking beautiful too!
If there is rain forecasted during an outdoor ceremony, we recommend choosing some type polyester material because this fabric dries quickly after getting wet due being synthetic fibers which resist water absorption better than natural fibers like cotton do."
Conclusion
At Hannah Rose Vintage Boutique, we want you to find the perfect flower girl dress for your special occasion. We have a wide selection of colors, styles and sizes available. We also offer custom sizing on certain styles so no matter what your girls' measurements are or how big or small they are -- we have something for everyone in this category!
Tags:
Flower girl dress color etiquette, Ivory flower girl dresses, white flower girl dresses, Satin flower girl dresses, Do flower girl dresses have to match each other, Long Sleeve Flower girl dresses, Fall flower girl dress, Spring and Summer Flower girl dresses