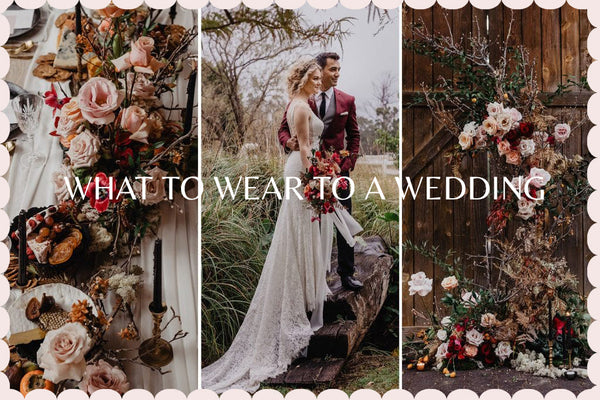 Oh My Gosh I Am Invited: What to Wear to a Wedding!
Help with choosing the right outfit for the right season.
First things first and you must take your lead from the bride-to-be and consider the wedding theme.  Is the wedding going to bohemian, a traditional wedding theme or garden theme.  You will need to take into account the season of the wedding and where the wedding will be held.  Will this be an indoor wedding or an outdoor wedding?  And also, the location, in a garden or park will the guest be sitting in the shade or bearing the full sun during the ceremony?  Will the wedding and all the festivities be indoors under air conditioning.  Sometimes wedding at held at an outdoor location and then taken indoors for the wedding receptions.  Ranch venues are a favorite for summer weddings and also B&Bs often offer beautifully landscaped wedding reception areas.  You will need to check the weather forecast for the planned date.  Will it be a Spring Wedding or very early Spring when the weather is still quite chilly or Summer?  If a Summer wedding, is the weather likely to be hot and dry and humid.  Location can affect the humidity too.  Such as a Houston wedding outdoors during summer months is like to be very humid and so you would want to choose an outfit that will be cool and light weight in lighter colors so that any perspiration will quickly dry and go unnoticed.  A Summer wedding in Arizona will likely be hot and very dry and so slightly darker colors in very light weight fabrics may be very comfortable and blend lovely with the right earthen tones of Arizona. 
Tina Turner for her Italy Wedding opted for a grand green taffeta and black silk tulle gown by Armani and instructed her female wedding guests to wear light colors or white.
Image: Italymagazine.com
And her adorable flower girls wore beautiful billowing dresses of bright orchid.
Image: Staraddresses.com
The bride will often times be able to guide you on attire so you should always check with her, if possible, in case she have specific ideas but generally she will let you know up front if she does. Deciding what to wear to a wedding isn't always an easy task. Once you send your RSVP in the mail, there's a good chance you'll start thinking about the outfit you'll buy to wear on the big day. While the invitation will often include a suggested wedding dress code, it can be confusing when it comes time to actually pick an outfit. And, as any seasoned guest knows, the last thing you want to do is procrastinate finalizing your look until it's the night before the wedding and you feel like you have nothing to wear. Best to plan your look right away as to be sure that you will be happy with your choice.
Online and on Google you are likely to find many tried-and-true wedding attire fashion tips that'll help you pick an outfit that you will feel your loveliest in.  Many boutiques (if you are a boutique shopper) will be able to guide you in helping to choose a beautiful outfit for the upcoming wedding that you are invited to.  Best to choose something that you will want to wear over and over again so as not to waste.
What to Wear to a Wedding as a Guest
If the bride as instructed you on a particular color then that's great because she will have narrowed your choices and made it easy.  If she has suggested a certain style such as bohemian then it will still not be too difficult as you can Google bohemian clothing for women and this should give you a good idea of style options.  Something else to consider is whether the wedding will be upscale and high fashion or moderate.  If the wedding will be upscale (we all have at least one rich friend) and your budget does not fit, there are many businesses out their such as Rent the Runway where you rent upscale clothing for a couple of days or a week at very reasonable prices.  Just be careful that there are no spills or snags on your rented dress as it will need to be returned in pristine condition.
In short if the dress code in black-tie, then there is only one correct outfit: a black tuxedo for the guys and an elegant floor-length evening gown or elegant dress for the female. 
If not black-tie then Fashion rules for a casual daytime wedding, on the other hand, are much different. "You can never go wrong with a navy blazer, a blue button-down shirt or khaki pants for a casual wedding and a pretty dress or even a pantsuit for the female.  A lightweight and pretty dress would always be a great choice for a daytime casual wedding.
Photo: https://www.kerridgeweddings.co.uk/100-best-wedding-guests-photos/
In addition to everything else time of day will be a big factor in your choice.  Early day dictates lighter weight and evening can go to more medium weight fabrics.  What ever style you opt for many bridal stores will also offer a great selection of clothing for wedding guests.
Photo: https://www.kerridgeweddings.co.uk/100-best-wedding-guests-photos/
We must also mention flower girls again who are an integral part of the wedding.  If your daughter has been chosen for a flower girl then you will need to consult the bride on desired color, style, etc.  Most often white or ivory is chosen for flower girls but as you see in Tina Turners grand and beautiful wedding the flower girl dress can be any of a large array of beautiful styles and colors.  So if you are needing a flower girl dress definitely check out Hannahrosevintageboutique.com
Use this list of our Top 10 Wedding Themes to guide you to set the tone for your big day.
1. CLASSIC WEDDING
Often a more formal celebration, a classic wedding frequently features

 

beautiful green and white florals, refined colour schemes, plenty of clean lines, and sophisticated elegance. Translation: Total. Bridal. Bliss. There are plenty of ways to incorporate a classic wedding theme into your big day.
A Soft Color Scheme. …
Elegant Stationary. …
A Timeless Wedding Dress. …
Elegant Bridesmaid Dresses. …
Traditional Ceremony
Photos from https://elegantweddingdirectory.com/
2. BOHEMIAN WEDDING
Airy dresses…
Flower crowns…
Dream catchers…
Boho-chic vintage rugs…
Cascading bouquet…
Floral table runners…
Table numbers made with driftwood…
Look for a quaint bohemian wedding location with the freshness of the countryside breeze.  Feel the magic of a new day joined together as one is set against the backdrop of warm and inviting items such as books, flowers, and brooches bringing a bohemian touch to a modern concept. A quaint interlude awaits your guests as they make their way to the guest table unlike any other. It is colorful and playful, full of many aromatic and whimsical designs. Arrange your flowers in a way that enhances your overall theme with added unusual sweets such as chocolate covered almonds, popcorn, and a variety of candy are sure to entice guests of all ages. In the spirit of a bohemian and playful wedding, your vows can be just as visually romantic set against a wooden arch adorned with whimsical flowers and many other items in the theme of wooden tables and chairs, the softness in the presentation is a key factor.
Photos from https://elegantweddingdirectory.com/
3. FAIRYTALE WEDDING
Cinderella bridal gown…
Soft colour palette…
Crystal Chandeliers…
Red Roses…
Large floral arrangements…
Ornate decor pieces…
Whimsical wedding invitations…
The best fairytale wedding venue can be a waterfront mansion, or hilltop outdoor wedding. Your fairytale wedding or better said everyone's wedding day is a real-life fairytale. Find inspiration from the classic fairytales like Cinderella and beauty and beast and imagine your personalized version of a storybook wedding. Your gown will represent you and allow your inner glowing bride to emerge.  Opposing infused elements in the theme will bring forth a factor of surprise and wonder. Whether you choose a dress that is cream, red or ecru, take notice of the details that make it all that is magical.
Your fairytale wedding can be elegant or rustic or what ever you choose.  You wedding invitations should match your theme so that guests instantly know what to expect when shopping for their wedding attire.
Photos from https://elegantweddingdirectory.com/ 
Image from https://wedluxe.com/
4. GARDEN WEDDING
Floral wedding invitations. …
Beautiful Garden bouquet. …
Greenery centerpieces. …
breezy bridesmaid dresses. …
A flower-adorned cake. …
Botanical-inspired details. …
A floral necktie…
Find the best outdoor wedding location right here. Imagine a garden wedding in the midst of green pastures sprinkled with vibrant touches of colorful blossoms as flawless as a painting. An outdoor wedding ceremony relies on a different set of elements. The weather is a large factor, therefore it's important to set up a space that is both practical and beautiful. Decorate your chairs with real blossoms. Flowers add a dash of color and diffuse their fragrant scents throughout the venue. Soft fabrics, like chiffon or tulle draped on chairs or used as wall décor, will add further mysticism to the romantic, airy setting of an outdoor wedding. Enjoy the magnificence that each season has to offer. Find inspiration in everything around you: a song, a poem, a color, or a scent. Say your wedding vows in a clear view of the rolling plains or close to home. Your dream garden wedding takes shape as you breathe life into every corner of your imagination.
https://www.stonegardenweddings.com/
Image from https://www.eventective.com/
5. GLAMOROUS WEDDINGS
Soft hues…
Delicate lighting
Pretty florals…
Hanging lights …
Calligraphy…
Where do you find a Glamorous wedding venue?  As you seek new ways to insert your vision consider how you want to introduce bold accent colors to your wedding theme. Whether you wear a statement headdress crown or a 30-foot train with a Gatsby inspired shawl, follow your heart and create a look that is uniquely yours. Elaborate luxurious structures are constructed using the latest wedding trends and technology. Adorn your glamorous wedding venue with flowers, their wide range of intriguing scents is a pleasure for the senses. Luxury is effortless using flowers for your wedding and pushing the boundaries of art and the imagination. Walk down the aisle, with your shoulders back and hold the bouquet as low as possible in front of your torso. Line the aisle of the wedding reception with glamorous flowers and decorate each table setting with a tall flowered centerpiece and remember not to obstruct the vision of one guest to another. Floral decor a staple of a luxury wedding.
As seen on Elegant Weddings
Image from https://www.eventective.com/
Elegant Wedding Cake
Image from https://elegantweddingdirectory.com/
6. MODERN WEDDINGS
Ghost chairs…
Mismatched bridal party. …
Minimalist wedding dress. …
Simple Stationary. …
Simple backdrop. …
Greenery…
Monochrome color palette…
What makes a modern wedding? Modern rental furniture pieces have become very popular within the wedding industry with the ability to modernize your favorite wedding venue is effortless. Modern and minimalist furnishings, such as square or contemporary chairs, sofas, and tables will create intimate tête-à-tête sitting occasions for your wedding guests.  Strategically placed at designated sections of the reception hall or at a separate lounge area. Aside from such large items, your event planner may also introduce out-of-the-ordinary linens and modern candelabras to your décor. Using mirrors, modern contrasting colors, textures, and design pieces any venue can be transformed from your mother trademark venue to a modern and trendy reception venue. Ask your event planner about the latest trends and bring your signature style to your wedding day.
7. ROMANTIC WEDDINGS
Soft hues…
Delicate lighting…
Plenty of florals…
Linens like tulle, voile & organza…
What is a romantic wedding?. Perhaps it began with the legendary rhyme: Something old, something new, something borrowed, something blue…and a sixpence in her shoe. These words sparked a romantic tradition which is as pertinent today as the period in which it was written. When something old is given to the bride, it connects her to her roots, her history. The juxtaposition to something new links the bride to her new life. Thus, any new item represents hope and luck. Something borrowed reminds the bride, that in life's path, one must remember the role and support of loved ones, borrowing strength and wisdom from others. In ancient times, the color blue was said to signify purity and loyalty. A bride opted to wear something blue to show her espousal of such a notion. And, finally, a sixpence is a symbol of wealth and prosperity. ahh, I love that!
8. RUSTIC WEDDINGS
Natural textures… very woodsy 
Hand tied bouquet…
Mason jars, mismatched vases,…
Antique Victorian flavour…
Wood elements…
Casual dress code…
Florals with greenery,..
Barns are very popular for rustic wedding venues.  Every love story relies on a beautiful setting as the foundation of a journey to remember. As you muse over every detail of your wedding day dreams, select an extraordinary location that fills your heart and satisfies your senses. Your ideal milieu may include a walk in the park for a romantic photo shoot.
image from hitched.co.uk
Image from realweddings.com
Rustic Vintage Wedding theme
Image from theweddingplaybook.com
9. VINTAGE WEDDINGS
Victoria era…
20s or '40s
Loose bundles of flowers…
Lace wedding gowns…
Vintage props…
Weathered accents
Custom designed motif…
N

ostalgic

cookie jars, antique tables…
Where do I find a vintage wedding venue? If you're looking for vintage wedding venue with the perfect backdrop of rich architectural sights left by the French and British. There are many wedding reception venues that fit the bill of a beautiful vintage wedding, only a short distance away.  A few local venues showcase the beauty of classic architecture mixed with modern luxuries and conveniences.  However many chateau or restored mansion and castles have more of a luxury feel to it, thus suiting the image of a royal wedding meshed with a vintage wedding.  Fashion a ballroom in the venue grand room, for a long night of dancing. It does not necessarily have to be big but it can be made just as grand with the right décor, for your first dance as a married couple, which signifies the start of a vintage love together.
Vintage wedding themes are usually very romantic too.  Lots of flowers candles, an old church with stairs or an old mansion would be an excellent choice. 
image from https://elegantweddingdirectory.com/
10. DESTINATION WEDDINGS
Where do I find the best destination wedding travel agent near me?   Right here, in the city, we have some of the best destination wedding specialists. They can accommodate all your wedding planning needs by recommending the right destination venue and the appropriate local wedding specialists. In fact, they can plan every detail of your destination wedding: invitations, décor, flowers, photography service and much more. To book a wedding destination package that's right for you, contact your travel professionals. Their expertise and experience will ensure an unforgettable wedding day celebration. Begin your wedding day memories by choosing a magical setting. Destination weddings are one of the fastest-growing trends as couples venture to new places and enchanting locations. For those who have dreamt of dancing on the sand after saying your "I do" consider exotic locations like Jamaica, Fiji, or Hawaii and celebrate your love with close family and friends.
Destination wedding are not always held on some faraway beach.  A destination wedding could be in Paris or Italy or anywhere outside of your present country of residence. 
Image from Frenchweddings.com