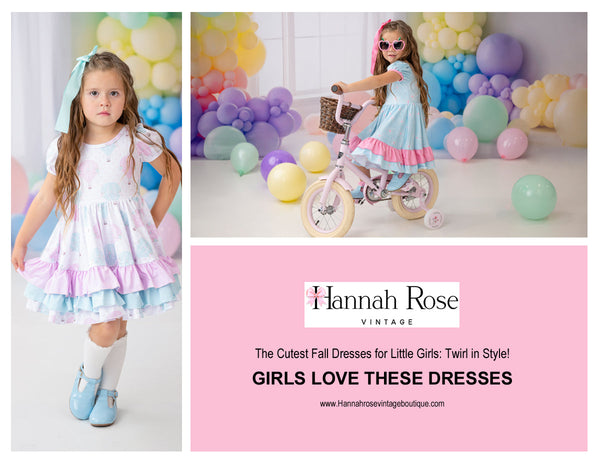 The Cutest Fall Dresses for Little Girls: Twirl in Style!
The Cutest Fall Dresses for Little Girls: Twirl in Style!
Introduction
When it comes to dressing up our little girls, we want them to look their absolute best while still feeling comfortable and free to play. With the arrival of fall, it's the perfect time to update their wardrobe with some adorable dresses that are not only stylish but also cozy. In this article, we will explore the cutest fall dresses for little girls that will make them twirl with joy and capture everyone's heart!
Girls Fall Twirl Dresses: An Irresistible Delight
Every little girl deserves to feel like a princess, and what better way to achieve that than with a twirl dress? Twirl dresses are not just fashionable but also encourage creativity and self-expression. Made with the softest fabrics and featuring delightful designs, these dresses are perfect for any occasion, whether it's a family gathering, a playdate, or simply a day at the park.
Blue Daisy Dress & Up And Away Dresses: A Whimsical Delight
Our blue daisy dress and up and away dresses are absolute showstoppers! Made with love and attention to detail, these dresses will make your little one twirl and twirl with pure joy. The dresses features double and triple ruffles at the hemline, creating a playful and whimsical look. The scoop neckline adds a touch of elegance, while the sweet puff sleeves complete the overall charm of the dress. Fall Dress Trends: Embracing Colors and Patterns.
Fall is the perfect season to experiment with colors and patterns, and this year's trends for little girls' fall dresses are simply adorable. Here are some trends that your little one will surely love:
Floral Prints: Embracing Nature's Beauty
Floral prints never go out of style, and they are a perfect choice for fall dresses. opt for dresses with muted floral patterns in warm tones like burgundy, mustard yellow, and deep navy blue. These prints capture the essence of fall and bring a touch of nature to your little girl's outfit.
Plaid Perfection: Classic and Chic
Plaid is a timeless pattern that adds a touch of sophistication to any outfit. This fall, choose plaid dresses in shades of red, orange, and brown. Pair them with knee-high socks and leather boots for a classic and chic look that will turn heads.
Animal Prints: A Playful Twist
Animal prints are a fun and playful trend for fall dresses. Choose dresses featuring cute animal motifs like foxes, owls, or squirrels. These prints add a touch of whimsy and imagination to your little girl's outfit, making it stand out from the crowd.
Comfort and Durability: A Priority for Little Adventurers
While style is important, it is equally crucial to prioritize comfort and durability, especially for little adventurers who love to explore and play. Opt for dresses made with soft fabrics like cotton or jersey, as they allow for easy movement and breathe well. Look for dresses with adjustable waistbands, as they ensure a perfect fit as your little one grows. Additionally, dresses with reinforced seams and sturdy stitching will withstand the test of time and multiple washes.
Dressing for the Weather: Layering is Key
Fall weather can be unpredictable, so it's important to dress your little one in layers. opt for dresses that can be easily paired with cozy leggings or cardigans for chilly mornings. Additionally, choose dresses with long sleeves or add a lightweight sweater for added warmth. By layering their outfits, you can ensure your little girl stays comfortable and stylish no matter the weather.
Conclusion
With the arrival of fall, it's time to update your little girl's wardrobe with the cutest fall dresses. Twirl dresses offer the perfect blend of style, comfort, and freedom to play. From whimsical prints to classic patterns, there is a dress for every little girl's personality. Remember to prioritize comfort and durability while selecting dresses, and don't forget to layer up for the ever-changing fall weather. Dress up your little one in style and watch her twirl with joy this fall!